Ho.13 was another munitions store still under construction when the Jersey was liberated on the 9th of May 1945. This is a dangerous tunnel as only the centre section is lined. The floor is covered with the rotting remains of the timber props used to support the rock whilst digging, and then concreting was performed.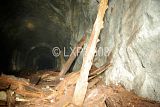 Semi-complete sub tunn
el: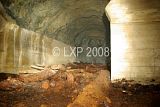 Escape shaft, with the chute for pouring concrete still in place, and no ladder. The tunnel was not as advanced in construction as some of the others on the island.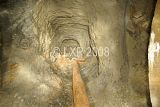 My favourite picture, this shows the true bore and length of the tunnel, even my SearchBlaster struggled to light right to the end!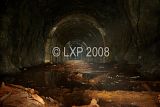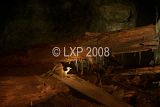 The last remaining pit-prop still standing, after about 63 years that's pretty impressive: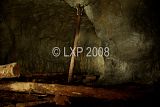 If you find this tunnel take care of it, it's old, not feeling too well in places and has a tendency to fall over...

High quality copies available here.